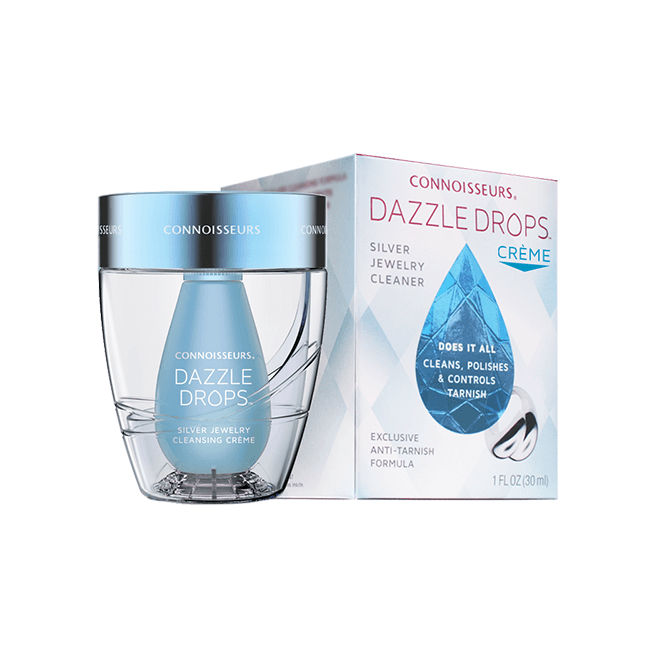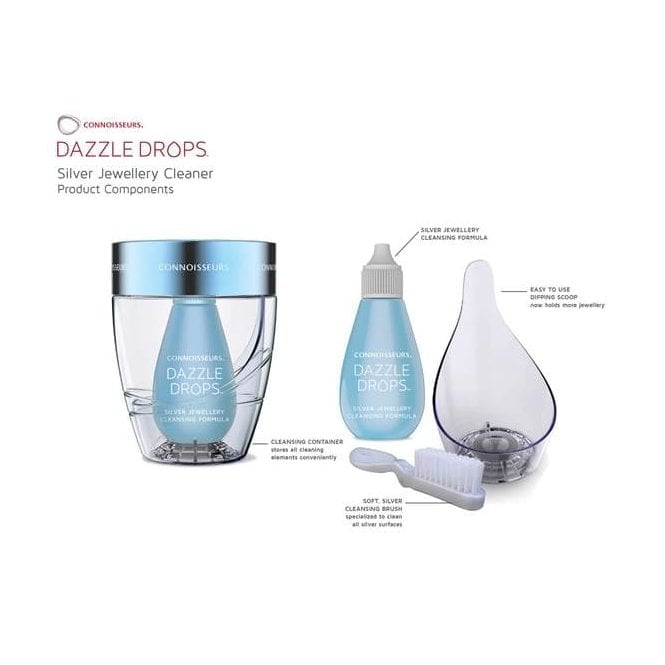 Connoisseurs Silver Dazzle Drops
These Silver Dazzle Drops clean, polishes and protects silver jewellery from tarnish. Perfect for sterling silver, silver plated and silver with gemstone jewellery. For gold, platinum, diamonds, precious and semi-precious stones, pearls and delicate jewellery try the Connoisseurs Advanced Dazzle Drops.
How to use:
Place a small amount of Silver cleansing Creme on the jewellery.
Brush silver jewellery until tarnish is removed. Reapply if necessary. (The bristles will not scratch the silver)
Fill rinsing container 3/4 full of warm water. Place silver jewellery in dipping scoop and rinse in container.
Dispose of dirty water and store scoop, brush and cleansing Creme in the vented rinsing container. 
Use the Connoisseurs silver polishing cloth or jewellery wipes for an added shine.
Each cleaner comes with:
Silver jewellery cleansing creme 30ml (1oz)
Easy to use dipping scoop - now holds more jewellery
Easy-Grip cleansing brush - specialised to clean all jewellery surfaces
Rinsing container - Conveniently stores brush, scoop & drops.
Connoisseurs jewellery wipes are perfect for creating the best shine or for removing tarnish.
Connoisseurs Silver Dazzle Drops
Shipping
Fast shipping
Our products are dispatched via Royal Mail Special Delivery, with no extra charge.
Order tracking
You will receive a tracking link shortly after placing your order, allowing you to stay informed every step of the way.
Get in touch
Should you have any queries, don't hesitate to contact us.